Teaching Native Waters: Professional Development and Virtual Community
About
About this virtual professional development series:
Middle and high school science, technology, engineering, and math educators: Join us for place-based STEM education professional development to build community with other teachers serving Native students.
Earn up to $500 for each module for materials and supplies for your classroom. Receive technology to help you connect for distance learning. Receive materials and lessons for distance learning curriculum.
Support each other through challenges and build resilience with other educators serving Native students.
Teaching Native Waters will hold a total of four virtual modules this school year, each six-weeks long. Sign up for just one or for all four.
Dates:
Module 1: Oct. 5 – Nov. 20, 2020. Pueblo Farming Project: Know Your Soil
Connect with scientists and TCUs to build career bridges for your students.  Learn valuable techniques for making science place-based and relevant to community. Earn professional development clock hours for Arizona.
Module 2: Jan. 18 – Feb. 26, 2021. Making Climate Connections.
Join the module on Making Climate Connections to discover ways to blend local climate impacts and knowledge into your classroom.
Module 1 Overview
Module 1. Pueblo Farming Project: Know Your Soil
Dates: October 5, 2020 – November 20, 2020
Knowing your soil is fundamental for both traditional dryland farming and for modern dryland approaches. Discover the key ingredients in soil and why they matter, how plants can tell us about what the soil conditions are like where they are growing, and how to tell the story of the soil in your own backyard.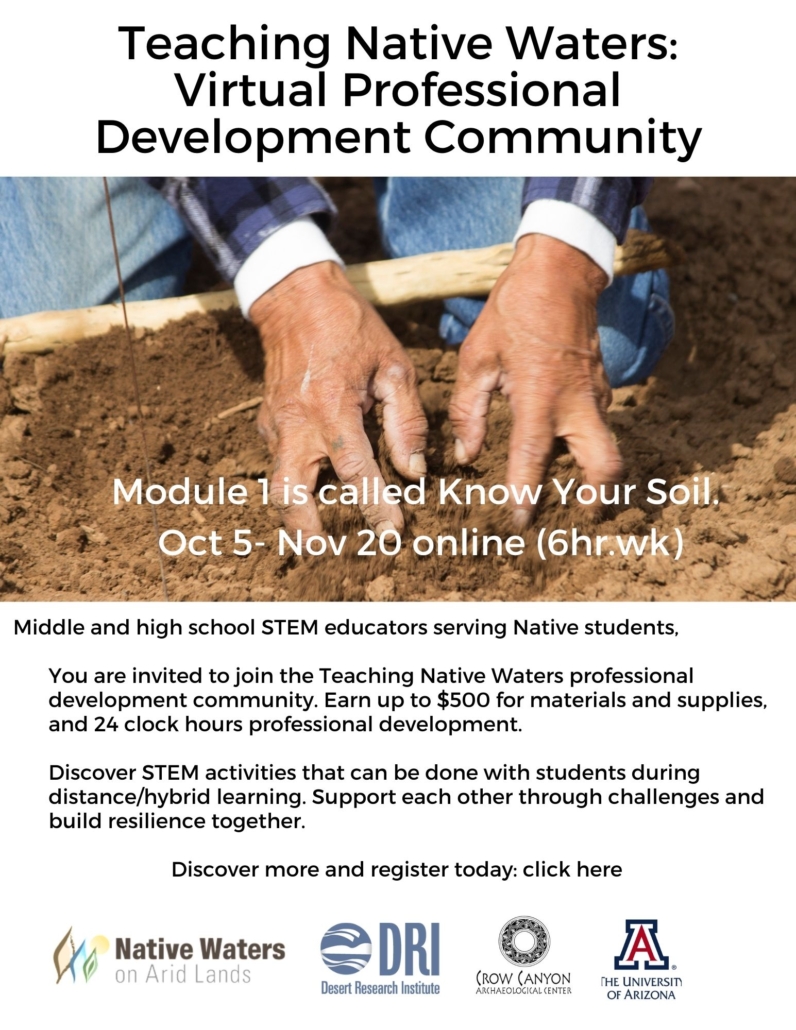 Module 2 Overview
Module 2. Making Climate Connections
Dates: January 18, 2021 – February 26, 2021
In this six-week module on Making Climate Connections, discover how you can use phenomena to launch a series of student-driven questions around regional climate impacts to local species and our communities. We will connect with regional climate scientists to unpack regional climate data, learn how to make it relevant to your students, and inspire hope in the context of a changing climate. At the end of the module, you will have developed your own lesson plan built around a single climate impact in your region.
In this module, you will join a community of educators to explore the climate change impacts for human communities and local species in your region. Together we will use this knowledge to expand your ability to use the concept of "phenomena-driven" questions from the Next Generation Science Standards (NGSS) in your classroom simply and easily. We will cover new tips and tricks for building a lesson plan that focuses on climate connections, and you'll give and receive helpful feedback on these lessons from other educators serving Native students.
Apply today: 
https://docs.google.com/forms/d/e/1FAIpQLSdbMtZfh0H4y2dBWd2GviSsD0oSVQZPKCa7nBCquigiK8VR0w/viewform?usp=sf_link
FAQ
Frequently Asked Questions
Who can sign up?
Middle and high school educators serving Native students in the science, technology, engineering, or math subject areas. We will be focusing on place-based contexts of the four corners region.
If I sign up, what is the commitment?  
When you register for any of the modules, you commit to participating in a six-week professional development community, which involves honing a skill for teaching STEM, testing out a new experience, and engaging in dialog in our virtual community of educators. We will be providing activities and materials that you can try out in your classroom during the module. You will take part in 2-3 live meetings on Zoom during the six-week module, and you will connect with other educators in our online community in discussion forums.
How do I earn funds for materials and supplies for my classroom?
Completing each of the activities in the module will earn you money for materials and supplies in your classroom. We will be sending a gift card to every participant at the end of each module.
What will I learn?
Teaching Native Waters is a community of educators that is working to make the science from the Native Waters on Arid Lands program available for classrooms. Educators will engage in skills to support teaching science and natural resources in the classroom related to agriculture, climate, water, and STEM careers.
What else will I receive?
We will be sharing tools to help you access the program (like technology and data), which will be determined by participants' needs upon registration.
Every participant will also receive up to 24 clock hours of Arizona continuing education credits for educators. Just like the funds, you will earn clock hours for the activities that you complete!
Can I sign up with other educators at my school?
YES! In fact, we highly encourage it. You will earn bonus materials and supplies funds if you sign up with one or more educators from your school.
I'm a school administrator or member of the support staff. Can I sign up?
What will I need to participate?
You will need an internet connection and a computer with microphone (for Zoom meetings).
What are the expectations?
Plan to dedicate four hours per week to the Module. This will be a combination of live Zoom meetings, readings, online discussions, and homework.
How do I sign up?
Contact
Any questions?
This event is organized by Native Waters on Arid Lands educators and scientists from the Desert Research Institute, Crow Canyon Archaeological Center, University of Arizona, Climate Science Alliance, and DRI Science Alive.
If you have questions about this event, please contact event organizer Meghan Collins, meghan.collins@dri.edu.